The "new national standard" specification is too loose?
Compared with the "severity" of the new national standard for children's furniture, is the "new national standard" of mahogany furniture too "loose"?
Many people in the industry thought that the "new national standard" will usher in a new round of market reshuffle, but now it seems that mahogany furniture is more difficult.
The "new national standard" of mahogany furniture contains 10 items of terms, terms and definitions, requirements, quality indications and test methods of mahogany furniture, and mahogany furniture must be equipped with "product quality express card", indicating the implementation standards, process classification, Quality grade, scope of application, main materials, coating (dressing) decoration process, etc., if the "goods are not on the board" can clearly indicate the card as "condemnation, request" evidence.
An industry insider said that the quality of the express card is one of the three key elements of the "new national standard". It can be seen that it is only a low-level norm for the low-level chaos. The credit problem is subjective and intentional, and it is an attitude problem, not a Know the technical problems that are not enough. With limited objective criteria to regulate the infinite subjective intentions, the natural cup of water and wages, consumers still have a cup of snake shadow.
Industry sound
Dong Qing, Secretary General of Beijing Consumers Association:
Fidelity and service should be strengthened
As a piece of furniture, style, workmanship and price issues can be temporarily forgotten, and whether the issue of fidelity, environmental protection and after-sales service should be the most valued link. Although these are mostly invisible problems, they can directly affect the usability of furniture once they occur. Therefore, it must not be sloppy.
The phenomenon of unequal information in mahogany furniture market is serious. At present, domestic consumers are still in a weak position in the consumption of mahogany furniture, and this seemingly "mysterious" market is also being repeatedly questioned. If you want to resolve this contradiction, it is best for the merchant to tell the consumer the true information of all the products as much as possible and accurately, and keep the profit within a reasonable range. Only by maintaining this equal trading relationship can the market be developed.
Yang Bo, general manager of Yuan Henry classical hardwood furniture:
Urgently "professional assessment"
Although mahogany furniture has a long history as a heritage of Chinese culture, when we want to buy it as a household item, we still have many problems that cannot be understood and understood. These materials, places of origin, and craft problems are distracting. Nowadays, there are not a few stores in Beijing that sell mahogany furniture. However, due to the great knowledge and controversy of mahogany, there are still problems such as inadequate supervision as a distribution channel.
Although the implementation of the new national standard for mahogany furniture on August 1 this year has played a certain role in regulating the market. However, the origin and quality of the materials are the biggest hidden dangers in the current mahogany furniture market, and no one can give an answer. Therefore, the store first strictly controls the origin of raw materials, and then establishes an expert assessment group. The former ensures that manufacturers can't falsify materials, and the latter can vote in the event of product disputes, as a reference standard for determining whether to return or not.
Fu Junmin, general manager of Xuanming Dianju Furniture:
Practical first
What kind of concept of redwood consumption is most suitable and close to the people? In fact, looking at materials to buy mahogany furniture and the requirements for materials is far greater than the requirements of the shape of the gods, is the status of many consumers now buy mahogany furniture. This excessive "heavy material" consumption concept not only makes many irregular mahogany manufacturers have the space to drill, but also disguise the waste of the originally limited redwood resources.
Nowadays, the concept of mahogany furniture consumers in the society should be changed. For the time being, the materials will be placed on one side, and the merits and demerits of the process and the value of use will be taken as the purchase standard. In fact, only by letting go of the shackles of "precious materials", you have more time to pay attention to the other advantages of mahogany furniture.
Outdoor aluminum Sofa furniture are Rust-resistant powder-coated frames with comfortable waterproof cushion. Modern, clean line design with fresh white color and blue sky cushion, you can rest yourself completely.
Hidden rust-resistant, powder-coated aluminum frames provide sturdy support. Thick, high-density foam cushions are included.
100% waterproof polyester fabrics
All-weather cushions have a high-resiliency foam core wrapped in plush polyester
fabrics encase the thick, double-wrapped foam cushions.
Aluminum sofa furniture are easy to clean: To clean spills or stains, dilute one cup of chlorine bleach in one gallon of water and test in an inconspicuous area. Saturate a rag or brush in the bleach solution, scrub the entire cushion, rinse well with water, and let the cushions air dry.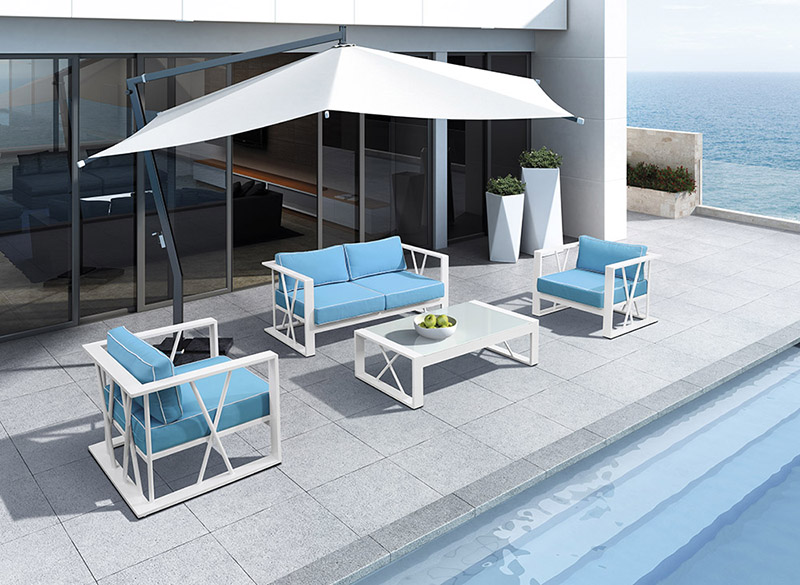 If you have any questions, please contact with us directly. Outdoor Aluminum Furniture are produced by Golden Eagle Outdoor Furniture Co.,ltd with High Quality and Good Appearance. Welcome you to visit our Factory for any inquiry, please send mail directly to us.
Aluminium Garden Sofa Furniture
Wicker Aluminium Garden Sofa Furniture,Patio Aluminium Garden Sofa Furniture,Rattan Aluminium Garden Sofa Furniture,Outdoor Aluminium Garden Sofa Furniture
Golden Eagle Outdoor Furniture Co., LTD. , https://www.geoutdoor.com