Thinfilm, a supplier of printed electronics, has signed an agreement on integrating cloud software, near field communication (NFC) and physical objects. We evaluated the packaging of the news, including enhanced consumer interaction and NFC options, as well as tracking and monitoring of sensitive products.
On July 15th, ThinFilmElectronicsASA (thinfilm.no), a developer and commercial supplier of printed electronics, announced a collaboration with Internet of Things network software company EVRYTHNG (Evrythng.com) to connect physical products with unique digital logos on the Internet Intelligent.
Through the agreement, Evrythng will use Thinfilm's complete set of printed electronic products to integrate its cloud software into a service platform, which includes a series of Near Field Communication (NFC) barcodes and smart labels. Through the use of comprehensive expertise covering printed electronics, NFC and scalable cloud computing software, Thinfilm and Evrythng can provide an integrated, end-to-end solution that extends the boundaries of the Internet of Things to everyday items including consumables range.
We interviewed Davor Sutija, the chief executive of Thinfilm, on this updated packaging assessment.
What role does packaging and packaging products play in this update?
Sutija: Thinfilm 's NFC barcode label is the world 's only NFC technology based on electronic product printing, which will be applied to products and product packaging. The unique identification code built into the NFC barcode will be linked to the unique digital identity in the powerful and highly scalable Evrythng cloud computing platform, thereby achieving unprecedented interactivity and personalization at the project level.
By touching mobile phones using Thinfilm and Evrythng products, users can directly link to the product 's digital logo to enhance interactivity and functionality. Enterprises will enjoy the benefits of enhanced visualization of supply chain activities and consumer behavior, and consumers will receive real-time, personalized interaction opportunities, from enhanced warranty registration and recall notifications to related accessories, upgrades and related product customization Quote.
What are the uses of NFC smart tags?
Sutija: Evrythng's cloud computing SaaS platform will be enhanced to support Thinfilm NFC smart tags, enabling communication between unique IDs and real-time sensor information. The technology can be applied to a variety of products, including temperature-sensitive medical products (such as drugs and vaccines) and perishable food such as meat and seafood.
The initial integration of Thinfilm and Evrythng will enable NFC barcode tags (used independently or as part of NFC smart tags) to be connected to the Evrythng platform via NFC-enabled mobile devices. Thinfilm memory tags, smart tag systems and NFC barcode tags (used independently or as part of NFC smart tags) can all be used as part of the comprehensive data acquisition / management system provided by Thinfilm and Evrythng. Evrythng is particularly interested in our NFC barcode products. We can use these products by using NFC-enabled mobile phones and tablets to effectively connect to the Evrythng software.
When can we see the actual results of partnerships on such interactive products?
Sutija: Today, Evrythng 's cloud computing platform is becoming more and more commercialized, and the integration of Thinfilm 's NFC technology has begun. We expect to announce more milestones in the future.
We offer a wide choice of different types of Patio furniture collections, which cover garden rattan sofa, outdoor dining set, chat set, rattan bar set. With splendid style and smooth line, every details and quality is presently perfectly. Excellent surface treatment process and the selection of products for climate and UV have long-term protection ability, getting more than your money`s worth.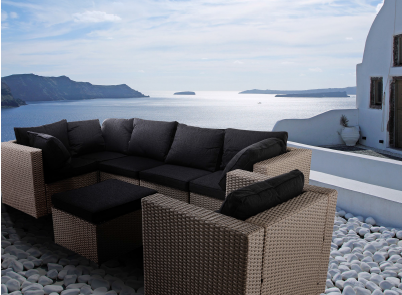 Patio Furniture Sets,Outdoor Patio Furniture,Patio Chairs,Garden Table And Chairs
SEVENZE INDUSTRAL CO.,LIMITED , https://www.sevenze.com