Background: 2011 China International Cabinet, Kitchen & Bathroom Products & Technology Expo (CIKB2011) not only provides the latest developments in the kitchen and bathroom industry, but also provides opportunities for many domestic quality products to go global. The Pacific Home Network reporter is highly concerned about the industry dynamics. The exhibition site visited the core home brand executives. The following is a detailed interview report.
Interviewer: Ke Jianfei, Marketing Director of Ouyi Electric
Interviewer: Pacific Home Network reporter Chen Liru
Several major promotion efforts to enhance brand awareness
[Pacific Home Network Reporter]: Through this exhibition, what kind of effect does your company hope to achieve?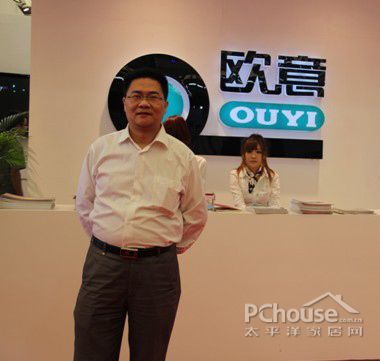 Ou Yi Electric Marketing Director Ke Jianfei
[Ke Jianfei]: At the exhibition, the first is to show our brand; in addition, some dealers came to participate in the exhibition, mostly in East China, and also played a role in our sales in the East China market.
[Pacific Home Network Reporter]: What is the current sales situation of Ouyi Electric in Shanghai?
[Ke Jianfei]: We entered the Shanghai market relatively late. It has been about four years now, and sales are not yet large. Everyone knows that the Shanghai market is more difficult to do because people here agree with imported goods.
[Pacific Home Network Reporter]: Nowadays, the market competition is becoming more and more fierce, and enterprises are paying more and more attention to brand building and brand promotion. How does Ouyi Electric do this in this respect?
[Ke Jianfei]: The role of the brand in the market competition is more and more important. Ouyi Electric has always paid great attention to the construction and investment of the brand, and also increased brand promotion, such as Xu Jinglei's endorsement and the same title on CCTV. Songs, "Star Avenue", "Dialogue" and other programs on the promotion. Our promotion is three-dimensional, not only on TV, but also on newspapers, online promotion, like Weibo marketing, e-commerce, etc. In some areas, outdoor advertising is the main; in addition, Shanghai agents and Shanghai Cooperative promotion of the business office. The promotion of three-dimensional has greatly enhanced the brand image and popularity of Ouyi, and we will continue to increase the intensity of brand promotion in the future.
Focus on young consumer groups to develop fashion products
[Pacific Home Network Reporter]: How do you think about e-commerce marketing?
[Ke Jianfei]: As far as I am concerned, I will also buy things online because some things may not be available in physical stores. Through the contact with e-commerce, I obviously feel that the shopping habits after 80 and 90 have been very different from those in the 1960s. A lot of 80, especially after 85, like to buy things online, not willing to go to a physical store.
Ouyi Electric attaches great importance to this kind of communication and sales model. In response to this situation, we have established an e-commerce sales department, which is specifically targeted at this age group. I think e-commerce is a new type of sales channel and lifestyle. It will enrich our lives and bring more opportunities to enterprises.
[Pacific Home Network Reporter]: For the younger generation of consumer groups, how does Europe and Italy cater to their interests and needs in product design?
[Ke Jianfei]: In response to the rejuvenation of the mainstream consumer groups, we also handle young and fashionable products in product design and production. Our product manager is 85 years old. He has made a comprehensive market research on the style, price, materials and performance of the products for young people, so that the products meet the aesthetic and functional requirements of the modern mainstream consumer groups. How to transform the actual product after the investigation, this also requires our technical staff to study. And our R&D planning team is also after the 8th Five-Year Plan. I believe that the products produced by our younger generation of employees are young, stylish and popular.
Practice the concept of environmental protection to selectively reduce costs
[Pacific Home Network Reporter]: The new concept of home life such as energy saving, low carbon and environmental protection is prevailing. How do you understand these new concepts? How does Ouyi Electric practice these concepts in product design and production?
[Ke Jianfei]: "Energy saving and environmental protection" is an inevitable trend in the future development. Now energy is so tight, Libya and Iraq are in turmoil, and ultimately it is for energy. The state's policy of promoting and supporting new energy is very correct and necessary. The policy encourages the use of clean energy, encourages low-carbon and environmental protection, and enterprises also have the responsibility to participate in it. Therefore, our products are designed and produced to be energy-saving, low-carbon, and environmentally friendly. the concept of. The general range hoods are two-layer nets, and the European-style hoods are all three-layer nets. The three-layer net filter discharges the soot to achieve complete separation of oil and smoke, and will not pollute the atmosphere.
[Pacific Home Network reporter]: This year, raw materials, artificial price increases and other factors have a certain impact on the industry, will the increase in cost affect the quality and price of products?
[Ke Jianfei]: We have the option to reduce costs. For example, the hood can be designed as a computer, liquid crystal display, induction, remote control, or as a button or electronic. Products for townships can be simplified, no need to sense, remote control, to meet the needs of life is the best. These aspects can be simplified and reduced, but when it comes to safety and health issues, we must never consider costs. Reducing costs does not mean lowering quality. We are a well-known brand and we are responsible for consumers and society.
Mummy Bag is specially designed for the convenience of infants and young children. The products of infants and mothers are put into the bag in different categories to facilitate the mother to take the children out. The interior of the Mummy bag is designed with clear separation. The necessary items for baby travel are arranged in separate categories, such as insulated bottle water bottle area, milk powder box, diaper area, clothing area, cleaning supplies area, etc., so that the mother can pick up and release. Classified.
Mummy Bag
Mother Bag,Mummy Bag, Baby Diaper Bag, Fashion Mummy Bag, Diaper Bag Backpack, Baby Changing Diaper Storage Bag
China Amulite Sunrising Luggage &Bag Products Group , https://www.chinabluesunrising.com